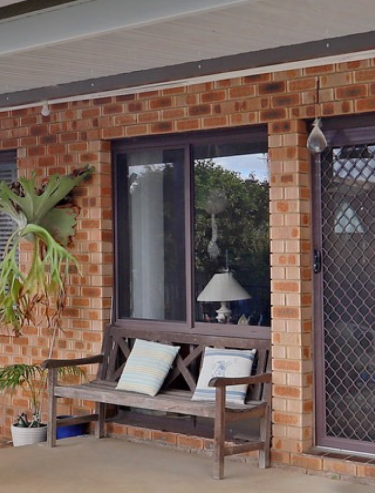 Hazelbrook
Home Improvements Hazelbrook

Improving outdoor spaces in Hazelbrook
Would you like to spend more time enjoying the outdoor areas around your Hazelbrook home? At Hi-Craft Home Improvements, we create enticing outdoor living spaces. Whether you want a pergola or you're seeking an entire alfresco area, we have the tools required to carry out the job.
With more than 70 years of experience in serving homeowners throughout Hazelbrook, we always strive for excellence. Using a combination of our skills and your ideas, we can make your garden a better place to spend your time.
If you have an idea for improving your outdoor spaces, call 1300 659 276.
Hi-Craft Home Improvements offers the following:
Patios
Hardwood decking
Aluminium decking
Pergolas
Carports
Alfresco spaces
Sunrooms
And more!
Patios
Could your garden benefit from a little more stability? When you love spending time outdoors, but you need somewhere solid to place your furniture, come to us for a patio. We're adept at creating patios of all shapes and sizes. Once we're done, you'll have somewhere to place your barbecue equipment and outdoor furniture.
Hardwood Decking
There's no denying that hardwood decking comes with a certain degree of charm. By using the best wood available and high-end finishing techniques, we can ensure your decking withstands heavy foot traffic. We have a range of woods available, so you'll be able to find something that matches your property's existing aesthetic.
Aluminium Decking
Would you like all the perks of decking, but without the maintenance? Using our aluminium decking, you'll get the best of both worlds. This type of decking is easy to clean, plus it can withstand all types of weather. We offer it in a range of wood-like finishes, which means the results are authentic.
Pergolas
When you love to spend time outdoors, having a pergola comes with lots of lifestyle benefits. The biggest benefit is that you bring additional shade to your garden. With more shade, you can spend time outside without having to worry about getting sunburn. Our pergolas are available as standalone structures, as well as structures that attach to your property.
Carports
With our versatile carports, you can give a vehicle the protection it needs. Whether you're looking for a single space port or a double space one, we have something for you. In addition to acting as shelters for cars, carports are excellent outdoor storage spaces.
Alfresco Spaces
When you're a fan of fresh air, being able to add an outdoor living space to your home helps you get more of it. Just like your indoor living spaces, your outdoor space deserves lots of attention to detail. With our cosy alfresco areas, you can enjoy spending time outdoors throughout the year. We have lots of designs available. All you need to do is add the furniture. With our alfresco areas, you'll also bring more value to your property.
Sunrooms
The weather doesn't have to be glorious for you to enjoy the sunshine. Our sunrooms act as perfect sunshine traps. Whether it's winter or summer, you'll feel cosy while sitting inside yours. As an additional living space, your sunroom can add value to your home too. Your sunroom can be used as an additional family room, study area, or whatever you wish.
Serving properties throughout Hazelbrook
At Hi-Craft Home Improvements, we serve properties throughout Hazelbrook. Our design and building teams have more than 70 years of experience. While listening to your ideas, they'll create an outdoor living space that works for you. Whether you want us for a carport, sunroom, or something else, we'll provide a service that's nothing short of excellent.
---
At Hi-Craft, the specialist team will make the whole process of improving your home as simple and hassle-free as possible. Purchasing a Hi-Craft structure gives customers a full service from start to finish including a dedicated design consultant, an office team who look after approval submissions as needed, project managers and builders. Get a free measure and quote today to make your home improvement dreams a reality.